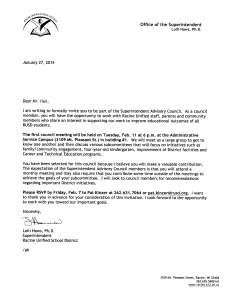 David Hall was selected to be a member of the Superintendent's New Advisory Council for the Racine Unified School District. In this role, David will be able to work towards Nelson Bros. & Strom's goal of furthering to help the development of career prep technical education programs, specifically for the manufacturing industry. Here is a transcript of the letter:
January 27, 2014
Dear Mr. Hall,
I am writing to formally invite you to be part of the Superintendent Advisory Council. As a council member, you will have the opportunity to work the Racine Unified staff, parents and community members who share an interest in supporting our work to improve educational outcomes of all RUSD students.
The first council meeting will be held Tuesday, Feb. 11 at 6 p.m. at the Administrative Service Campus … in building #1. We will meet as a large group to get to know one another and then discuss various subcommittees that will focus on initiatives such as family/community engagement, four-year-old kindergarten, improvement of District facilities and Career and Technical Education programs.
You have been selected for this council because I believe you will make a valuable contribution. The expectation of the Superintendent Advisory Council is that you will attend a monthly meeting and may also require that you contribute some time outside of the meetings to achieve the goals of your subcommittee. I will look to council members for recommendations regarding important District initiatives.
Please RSVP by Friday, Feb. 7 to Pat Kinzer … . I want to thank you in advance for your consideration of this invitation. I look forward to the opportunity to work with you toward out important goals.
Sincerely,
Lolli Haws, P.h.D.
Superintendent
Racine Unified School District.