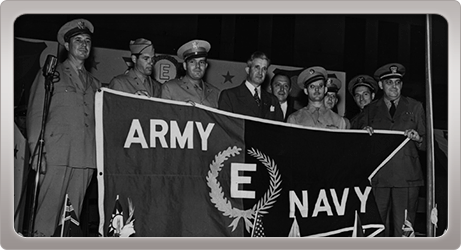 NB&S has received the Navy E Award in 1944 for their contribution to the war effort. It is that
93 year dedication to our customer that has built this company. Because of the customer – we exist!
The Nelson brothers Herb and Frank Nelson and Cliff Strom started the company in 1919 on 8th Street in Racine Wisconsin.  With the help of their sister company, Racine Stoker Mfg. Co. they continued to grow and prosper.  The company soon out grew the 8th Street location and they moved to 1620 Racine Street.  The company grew to 400 employees and 250,00 square feet of manufacturing space during the war years.  After the war ended, they expanded their business to include the service type machining that they are known for today.  Nelson Bros. & Strom Co. will do anything they can for their customers.  If they do not have the right machine on their floor, they will find someone who does and will get the job done right and on time.